James Kennedy watches his Kennedy Racing stable horses train in the dawn light at Pakenham Racecourse.
Photo: Julian Kingma
---
James Kennedy:
Domain.com.au
LUXURY retail king James Kennedy is perched high up in a steward's box, binoculars fixed squarely beneath his brow at Pakenham Racing Club.
Beside him, renowned South African horse trainer Chesney van Zyl surveys a handful of thoroughbreds as they pace eagerly around the edges of the track.
The pair trade quiet observations as most Melburnians are still waking up.
There is one filly in particular showing potential.
She doesn't even have a name yet but is the most advanced of the eight runners Kennedy has adopted under his new Victorian stable.
"It doesn't mean she is the best," he admits. "She is just the most likely to get running early. It's all about timing. You just have to be patient."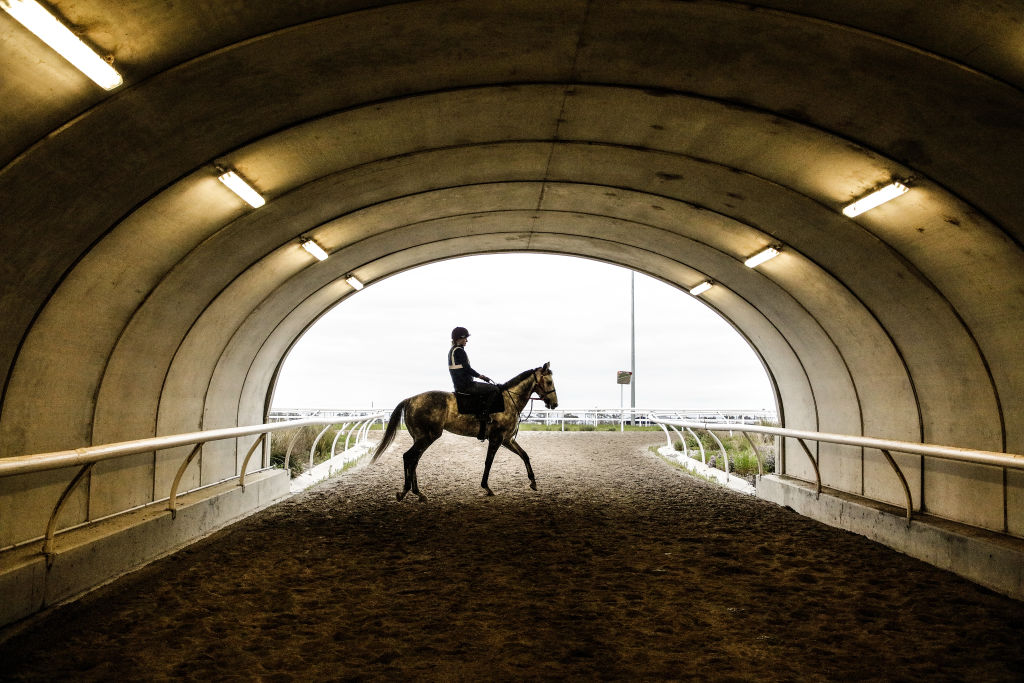 The man who turned his late father's watch company into an Australian business empire doesn't just have his eye on the yearlings below.  He is ready to claim a stake in Australia's multi-billion dollar racing industry.
But like the freshly saddled two-year-olds that spring and jolt with energy in the morning light, Kennedy must learn to pace himself if he is to break from the pack.
Success will be defined by the health of the horses. Of that he is adamant. Not by their ability to bolt across the finish line.
Kennedy Racing is pioneering what the he hopes will become a revolutionary training movement in an industry built on churn and burn economics.
Where out of form runners are too often retired and forgotten, the 40-year-old has plans to expand a stable with an ethos grounded on the teachings of famous "horse whisperer" Monty Roberts.
It is a pain free approach. Equine mindfulness, if you like. Kennedy sees the treatment of horses as key to its success.
This passionate racing enthusiast — in slim fit jeans and suede boots, no less — wants to be known for being more than just a naming rights sponsor.
"The industry has fallen short," Kennedy says. "That's my belief. Animal welfare in general for me was incredibly important.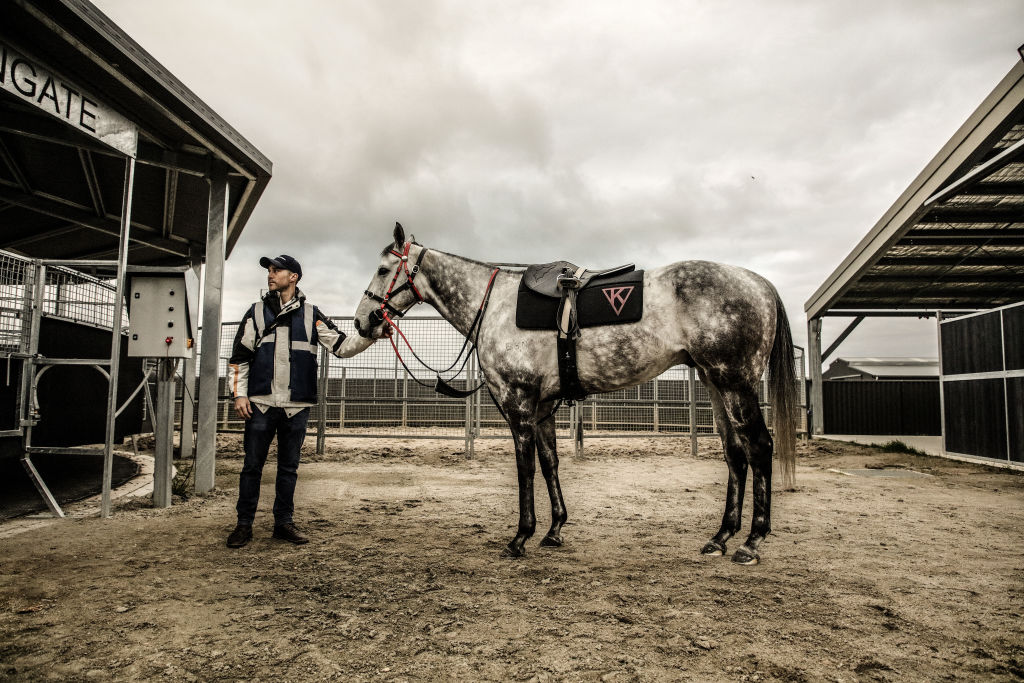 "When you buy a race horse I think you take respon
sibility for the animal for its entire life. No matter what.  Race horses are not a commodity."
Together with Roberts – who in recent months has been working closely with Her Majesty The Queen – Kennedy and trainer van Zyl share a vision for a stable capable of making in a dent in Group one fixtures.
The team currently work from a modest facility at Pakenham but have plans to grow the operation under Roberts' tutelage.
An American horse behavioural expert who has been hailed for his non-violent training techniques, the 84-year-old believes the secret to a horse's racing success is to identify the trigger for rogue behaviour then manage it.
Whips are, therefore, used for encouragement at Kennedy Racing and never for pain. But Roberts foresees a future in racing where horses are no longer whipped at all.
Kennedy says it was an approach he was eager to incorporate.
"Unorthodox? I suppose it could be perceived that way," he says. "But I would argue that everything that everybody else is doing is unorthodox, in hindsight.
"We are not focused on winning, not at all. Having happy, healthy horses is what it's all about. That is our priority. I think winning will come from that."
Kennedy understands in an industry where thousands of livelihoods depend on the hooves tearing down a track on a carnival day, such a passive approach might be difficult to swallow for owners and trainers in need of tangible outcomes.
But that is what he hopes might define him.
"I am fortunate in life that I am not doing this for money," he says.
"I don't need the money. But I love the industry. To buy a yearling and train it and get them to be an amazing race horse — that's the exhilarating part.
"Any success I want isn't for anybody else but myself.
"We are cruelty free.  I am not going to be a martyr for somebody who is trying to revolutionise the racing industry — that's not what I am in this for.
"But I know what we are doing here will be successful. I think putting the horse first is the recipe, the major key to success."
In the meantime, he plans to continue reinforcing the framework of a business his father Louis first started as a jewellery shop front in Sydney's Double Bay.
His naming rights deal with the VRC for Kennedy Oakes Day is halfway through its five year contract. When asked about the future, he doesn't see any reason why the relationship shouldn't continue well beyond that.
Meanwhile, Kennedy Luxury Group remains a match-day partner with the AFL for its annual fixtures in China.
Kennedy is certain his father would be proud of what he's achieved.
"I think he would be impressed by the business that I have built and the roads I have taken in life," he says.  "I am still young, so that helps.
"I was told once by a very successful man that you don't really hit your straps in big business until your 60 – so that's encouraging.
"I have still have 20 years to go."
AARON LANGMAID 
https://www.domain.com.au/domain-review/behind-the-scenes-of-james-kennedys-new-melbourne-horse-racing-stable-889531/